Who We Are
The Order of Eastern Star is an international Masonic fraternal organization where men and women share core beliefs of caring for one another, providing relief to those in need, and putting action into these beliefs. With over 300,000 members across the globe giving millions of dollars a day and countless hours of volunteer work, we make a positive impact one day, one hour, and one dollar at a time. Join us and learn new ways to impact your world!
Join, Learn, Impact Your World!
Rich in History
OES is related by the dearest ties to the Masonic Fraternity. Dr. Robert Morris, the poet laureate of Masonry,
founded this Order in the late 1800's using beautiful and inspiring Biblical examples of heroic conduct and moral values.
Make a Difference, Make it Happen
Featured Stories: OES Teams Up With Fellow Masonic Bodies: International Rainbow for Girls, DeMolay, and Jobs. For 2022 Walk to End Alzheimer's
The walk is Oct 15th at Mariposa Park Central in Albuquerque. Time is TBD. For any questions contact: Beth McKown WGM
Click Here to Sign Up and or Donate!
OES Fire Evacuations Pet Food Drives
Imagine if you had to flee your home, leaving your pets behind. Now you have no home, but your beloved pets are alive and in desperate need of help until you can be reunited with them. Artesia #18 and Roswell #10, Order of the Eastern Star are holding pet food drives to help feed pets left behind during fire evacuations. If you are in Roswell or Carlsbad New Mexico, and want to help please contact Christy Sibley Breen, 575-361-9777.
Click Here to learn more how you can help!
Pearl Dunigan 50 Year Membership Pin
Congratulations to our sister Pearl Dunigan, Jessamine #45 member, who received her 50 year membership pin from AZ WGM Moira Carlton and WGP Jim Hurd at her dual chapter Casa Grande #28 in AZ. For many years, Pearl has led our NM Grand Chapter project to clip coupons for the military. She is 98 years young. Look at that smile!
Members of Santa Fe Chapter #19 participated in Wreaths Across America at Santa Fe National Cemetery.
Pictured left to right: Dan Sutcliffe, Pamela Sutcliffe, PGM, Clyde Hill, Laura Hill, WM. Not pictured: Larry Holmes, PGP - WP. Santa Fe Chapter is looking to make this a permanent annual event, and will work towards more Masonic & Eastern Star participation.
Lovington #35 – 50 Year Member and Service Day
At our November 16th meeting, we surprised Sister Betty Hemann with her 50 year pin. Additionally, members donated non-perishable food items to the Cornerstone Food Pantry, which is operated by the Lovington Methodist Church. They hand out items to those that request assistance. Betty and her husband, Leon, volunteer there and were happy to receive our donation.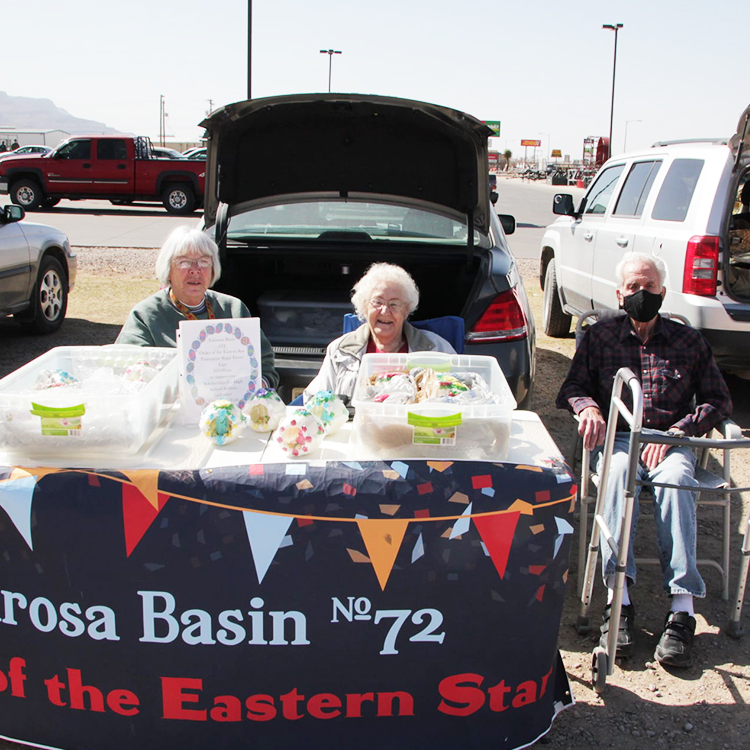 Tularosa Basin #72 Easter Fundraiser
The members of Tularosa Basin #72 are working for the OES scholarship fund. This past year was rather dry for fundraising but they have been are gearing up again with their beautiful made sugar easter eggs. They are also are supporting the Food Pantry in Tularosa.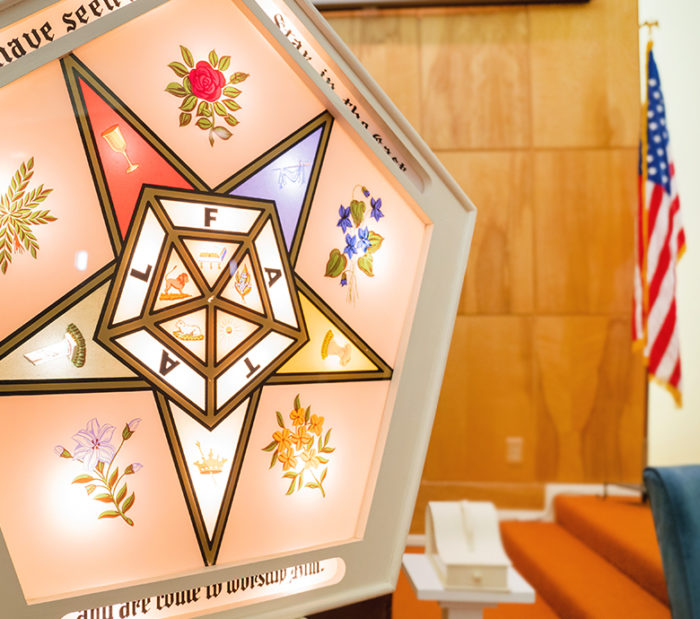 Our History: The Order of the Eastern Star
is a Masonic appendant body open to both men and women. It was established in 1850 by lawyer and educator Rob Morris, a noted Freemason, but was only adopted and approved as an appendant body of the Masonic Fraternity in 1873. The Order is based on teachings from the Bible, but is open to people of all religious beliefs. It has approximately 10,000 chapters in 20 countries and approximately 300,000 members under its General Grand Chapter. The values of members of the Eastern Star are symbolized by the five points of the Star.
New Mexico has chapters in 24 different communities
Organized as chapters governed as state jurisdictions, members are able to meet with members from across the United States and twenty different countries worldwide. The opportunity to travel, meet new people, improve your comfort in public-speaking, and increase your organizational skills are numerous and varied.
Click Here to View NM OES Chapters Map
For our members
Member resources include Grand Chapter event information, chapter resources, marketing materials, and more
Information for consideration for posting on the website
Contact Sabrina Pack Webmaster: SabrinaPack@gmail.com