Who We Are
The Order of Eastern Star is an international Masonic fraternal organization where men and women share core beliefs of caring for one another, providing relief to those in need, and putting action into these beliefs. With over 300,000 members across the globe giving millions of dollars a day and countless hours of volunteer work, we make a positive impact one day, one hour, and one dollar at a time. Join us and learn new ways to impact your world!
Join, Learn, Impact Your World!
Rich in History
OES is related by the dearest ties to the Masonic Fraternity. Dr. Robert Morris, the poet laureate of Masonry,
founded this Order in the late 1800's using beautiful and inspiring Biblical examples of heroic conduct and moral values.
Make a Difference, Make it Happen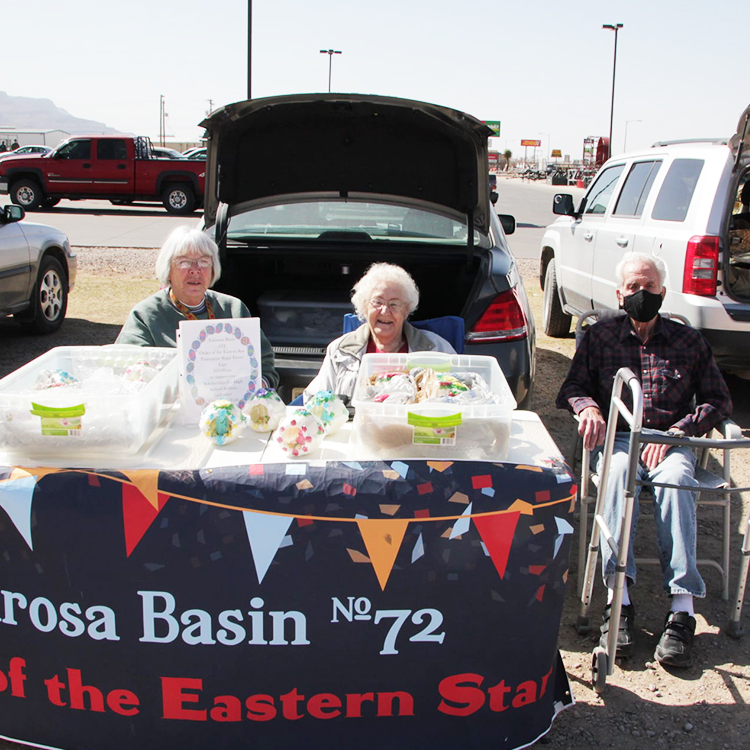 Tularosa Basin #72 Easter Fundraiser
The members of Tularosa Basin #72 are working for the OES scholarship fund. This past year was rather dry for fundraising but they have been are gearing up again with their beautiful made sugar easter eggs. They are also are supporting the Food Pantry in Tularosa.
Alamo #11 Gives back to the Community
OES Alamo Chapter #11 donates food to help the community during hard times. This month they collected pasta and sauces. Mildred & Rodney Toon and Donna Forrest delivered this load to the food pantry at Grace United Methodist Church.
OES Raises funds for Wounded Warrior Project!
On September 20th Renick Chapter #37 held a fundraiser for Wounded Warrior project. They served breakfast and lunch burritos. Lots of people came and enjoyed the car show. It was a fun filled day and were able to donate $241 to the Wounded Warrior Project.
Click Here to go to Grand Chapter Baskets
Get in on the Basket Fundraiser for Scholarships. Drawing to be done at virtual Zoom meeting October 31st.
OES Makes Handmade Blankets Donated to Local First Responders
Los Alamos Chapter #63 proves that you can have fun and give back to your community at the same time. They are making blankets to donate to local First Responders. Thanks for your efforts!
Painting Donation to Grand Chapter of NM
Sister Sabra Humphrey, PGM, has donated another beautiful original painting for this year's NM Grand Chapter fundraiser project. Sister Sabra (SL Humphrey) was a professional western artist, who is internationally renowned, member of the Cowgirl Hall of Fame, and has art hanging in art collections around the world. Today she paints mostly for charity purposes, sharing her memories of growing up on a ranch in Southern New Mexico. To get involved with this year's fundraiser, See WGP's wife, Sister Kathy Sultemeier, for raffle tickets. The tickets are available at each official visit. Drawing will take place at Homecoming. (need not be present to win) Thoughts from Sister Sabra, "This special painting could reflect pioneer women headed to chapter in our beautiful New Mexico. Many members traveled by horse and buggy, before the era of the automobile, to reach lodge halls across New Mexico. The original acrylic was painted in reflection of travels to Chapter meetings in our state, reminding us of the our heritage and many years of family and fellowship represented by our Order."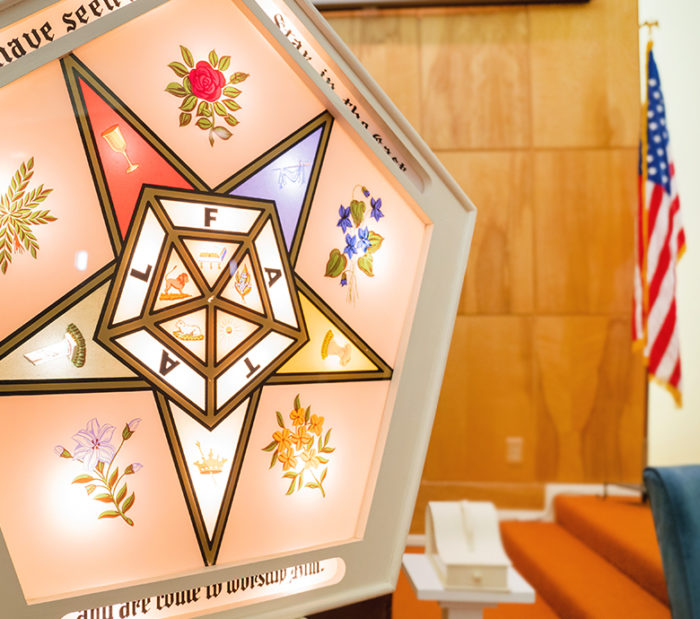 Our History: The Order of the Eastern Star
is a Masonic appendant body open to both men and women. It was established in 1850 by lawyer and educator Rob Morris, a noted Freemason, but was only adopted and approved as an appendant body of the Masonic Fraternity in 1873. The Order is based on teachings from the Bible, but is open to people of all religious beliefs. It has approximately 10,000 chapters in 20 countries and approximately 300,000 members under its General Grand Chapter. The values of members of the Eastern Star are symbolized by the five points of the Star.
New Mexico has chapters in 24 different communities
Organized as chapters governed as state jurisdictions, members are able to meet with members from across the United States and twenty different countries worldwide. The opportunity to travel, meet new people, improve your comfort in public-speaking, and increase your organizational skills are numerous and varied.
Click Here to View NM OES Chapters Map
For our members
Member resources include Grand Chapter event information, chapter resources, marketing materials, and more