Order of the Eastern Star New Mexico Grand Chapter
Who We Are
The Order of Eastern Star is an international Masonic fraternal organization where men and women share core beliefs of caring for one another, providing relief to those in need, and putting action into these beliefs. With over 300,000 members across the globe giving millions of dollars a day and countless hours of volunteer work, we make a positive impact one day, one hour, and one dollar at a time. Join us and learn new ways to impact your world!
Join, Learn, Impact Your World!
Rich in History
OES is related by the dearest ties to the Masonic Fraternity. Dr. Robert Morris, the poet laureate of Masonry,
founded this Order in the late 1800's using beautiful and inspiring Biblical examples of heroic conduct and moral values.
Make a Difference, Make it Happen
Featured Stories: Las Cruces Chapter Makes Significant Donation for "Cops and Kids" Christmas Shopping Event
Las Cruces Chapter #20 once again this year made a significant monetary donation to the Las Cruces Fraternal Order of Police Lodge 8 for the "Cops and Kids" Christmas Shopping event held at the local Walmart. The check was presented by Worthy Matron Jeanette Austin and Secretary Tenna Kay Bradshaw. Trish Keefer-Higdon went to Walmart to check out the event. Santa was there, as well as many, many City Officers, Sheriff's Deputies, State Officers, and Military/ROTC personnel. There were multiple cars/vans parked outside with lights flashing to welcome all to the event. Each family shopped with an officer and received $100, $25 to be spent on toys and the remainder on clothing. The families were able to check out at assigned registers. After shopping, the children had cookies, milk, and candy canes. Trish was impressed with both the FOP and Walmart and thankful for the opportunity to be a very small part of this event. Apparently, Trish's red cowboy hat made quite the impression on some of the children! Thank you, Las Cruces #20, for giving back to your community!
OES Donates to "Santa Sheriff" Program
Lovington #35 members donated to the Lea County Sheriff's Office "Santa Sheriff" program. Selected children are given a ride in a Sheriff's vehicle, go on a shopping spree, as well as other activities with the deputies. Deputy Tim Budrow is shown accepting our donation from Worthy Matron Crystal Goff. Additionally, each year our chapter contributes to the Wreaths Across America project.
Eastern Star Fellowship Get Together
New Mexico's Grand Ruth Debbie Davidson arranged an Eastern Star fellowship, friends and families get together at the Little Studio on Mesa in White Rock, New Mexico. After guidance from the studio's owner and resident artist Joanne Kozuchowski, the multigenerational group that included both a mom and daughter pair, a grandmother and granddaughter, as well as friends and other chapter members, all tried their respective hands at creating glass bird ornaments. Putting colorful glass shards and beads together to create individual birds was delicate work; the results ranged from a lifelike cardinal to flights of fancy fowl. Concentration and conversation were so engaging that snacks were ignored - an unusual occurrence for one of our OES gatherings! Plans for a repeat visit to the studio are in the works.
Los Alamos Chapter Annual "Trick or Treat Main Street"
October 27 was the annual "Trick or Treat Main Street" in downtown Los Alamos and Los Alamos Chapter again made its presence known to the community. Chapter members and Pajarito Lodge #66 brethren donated bags and bags of candy to hand out to hundreds and hundreds of happy trick or treaters both young and old. This year we did not run out of candy and were able to pass on several bags to Los Alamos Mesa Library festivities for its Halloween celebration. Greeting all with sweets and were chapter members Worthy Matron Angela Keiter, Worthy Patron (Past Grand Patron) Larry Holmes, and Past Matrons Donna Brewer and Teri Roberts, and much appreciated extra helping hands from Ester Keiter. Next year we're hoping fall hangs around longer -it was cold!
Aztec Chapter #53 Flags for Veterans Day
Aztec #53 assisting the local DAR chapter "Desert Gold" in putting the flags out on Veterans Day at one of the local cemeteries. There was also a school bus of children that was assisting!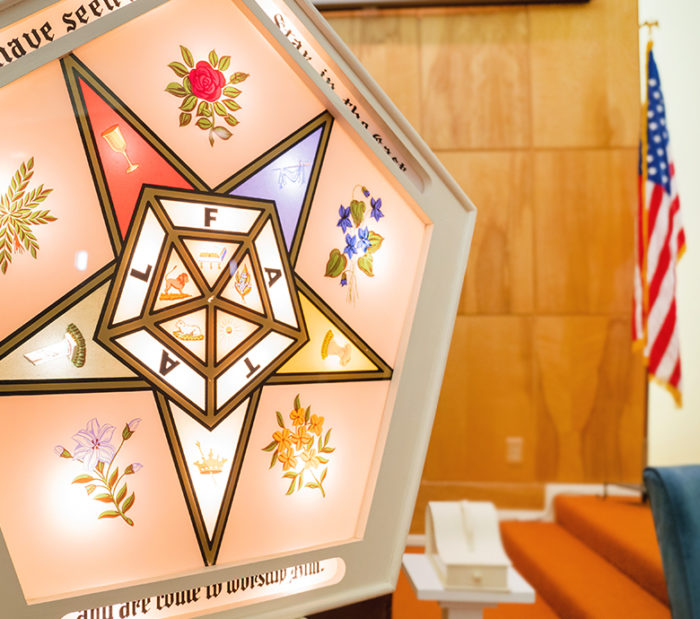 Our History: The Order of the Eastern Star
is a Masonic appendant body open to both men and women. It was established in 1850 by lawyer and educator Rob Morris, a noted Freemason, but was only adopted and approved as an appendant body of the Masonic Fraternity in 1873. The Order is based on teachings from the Bible, but is open to people of all religious beliefs. It has approximately 10,000 chapters in 20 countries and approximately 300,000 members under its General Grand Chapter. The values of members of the Eastern Star are symbolized by the five points of the Star.
New Mexico has chapters in 24 different communities
Organized as chapters governed as state jurisdictions, members are able to meet with members from across the United States and twenty different countries worldwide. The opportunity to travel, meet new people, improve your comfort in public-speaking, and increase your organizational skills are numerous and varied.
Click Here to View NM OES Chapters Map
For our members
Member resources include Grand Chapter event information, chapter resources, marketing materials, and more
Information for consideration for posting on the website
Contact Sabrina Pack Webmaster: SabrinaPack@gmail.com